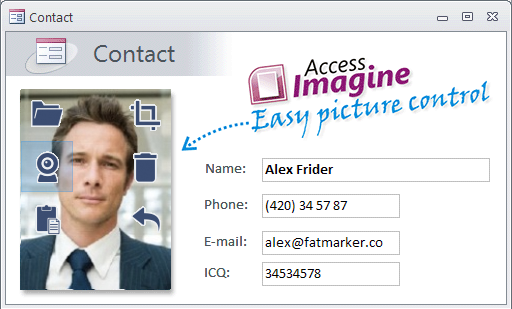 Got some imaging tasks?
AccessImagine is simple and powerful solution.
This ActiveX will be the real gem of your DB.
Download Now!
Happy Users
It's easy to insert images into DB – from file, webcam, clipboard or drag-n-drop. Crop images right on form!
Easy Integration
No need to VBA in most cases. Just place the control on form and bind it to picture field.
DB Space Saving
Automatic downsample, external storage and JPEG compression.
Optimized for Windows Tablets
Automatic big images downsampling
Full-screen image display
AccessImagine is one of the most productive tools I've found in a long time. It saved hours of work and is so simple to use that it makes the average Access user a power user instantly when the goal is to insert images!
Dan
Love the control, by the way. Greatest find yet for my model train inventory database. Stores all pics externally and saves them as JPG (unlike my current program, which SAYS jpg but they are actually BMPs)
Mike Shaffaer
That was f**** awsome! I loved the way you have solved it with the sliding button's and the easy drag-and-drop. This is good programming :)
MrDeej
This is a great control and makes my life much easier!
I have tried the camera functionality and it works like a miracle.
Yulius