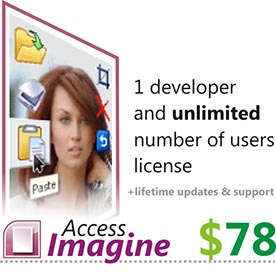 Once you have registered version of AccessImagine, all users that work with your databases will experience registered version too – without any advertizing and reminders. They will not see even the name of component actually.
Please provide your real e-mail during payment process. You'll receive your activation code on your e-mail shortly.
Contact access@bukrek.net once you have any questions or problems with payment processing.



2CheckOut.com Inc. (Ohio, USA) is an authorized retailer for Access
Imagine
Control.